Specials
An oil-free face serum that reduces the formation of adult acne, and improves visible signs of aging.
Revanesse® Versa™ is hyaluronic acid dermal filler. Hyaluronic acid is a naturally occurring substance that is found within the body.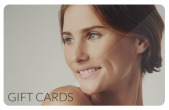 Send our E-Gift Cards and with Just a Click they'll be delivered right to their email inbox.